"Original God" has a detailed picture and text tutorial of playing methods from the West
2022-05-14 18:19:00【Wanderer star introduction】
《 Protogod 》 Youxiang comes from the West and the activity has begun , I believe many players don't know how to play the activity . Let's bring you "W Julius " To share the 《 Protogod 》 Youxiang comes from the West with a detailed graphic tutorial of playing methods , Let's see .
Activity time
2022/05/14 10:00 ~ 2022/06/07 03:59
Conditions for participation
Adventure, etc ≥20 Seasoning can be made at grade
Adventure, etc ≥28 Level and complete the task 「 Gossip in the pot 」, You can make corresponding dishes and invite characters to try
Basically, you can participate in this activity if you meet the conditions for cooking
The dust song pot is still under repair , Please wait patiently ~~~ If there is no character in the dust song pot and there is no loss of original stone reward . The reward for the number of activity trials is , Some weapon enhancement props , And breakthrough materials .
Food can be fed to the character later ( I hope the dust song pot can be repaired by then ), Every time you unlock a new recipe, you get 3 New favorability , The food is 6 month 7 Japan 3:59, Will expire , It also means that you may not be able to feed , But I believe that the dust song pot will be repaired by then ! Then friends can also get this reward .
Activity flow
Go to Liyue port to talk and pick up the task . You can start the activity .
He will tell you that the prepared props can be mixed with our own ingredients to turn into , Feeding props to increase the character's liking . At the same time, each character has his own favorite food .
Put in whatever materials you are asked to put in order , this 3 Just put one of each into it .
If you put the wrong material, you will deduct the little golden spoon once , Errors cannot exceed 7 Time .
The following is a demonstration of the production of activity props :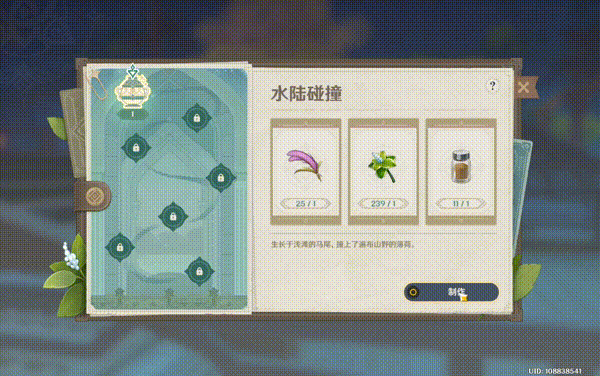 Materials can be picked or purchased . These materials are still relatively easy to obtain .
This is the material for today's activity .
Activities include 7 This recipe needs to be unlocked , Unlock one a day .
Get this item after making it
After mixing your own food, you can invite the role of dust song pot to taste .
Making recipes is the only way to get the original stone reward .
Be careful : Try the character 3 After that , Try the ingredients and continue to make , But the trial doesn't increase the character's liking .
You need to wait for the next recipe to unlock , It will happen again 3 A chance to try to increase your liking .
For more information, please pay attention to :
版权声明
本文为[Wanderer star introduction]所创,转载请带上原文链接,感谢
https://game.bfun.fun/2022/134/202205141714192546.html